Home Page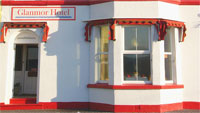 The Glanmor Hotel is a small, friendly family hotel situated at the northern end of Borth seafront overlooking the beautiful Cardigan Bay. The hotel is situated next to the long, clean, safe, sandy beach of Borth. Behind the hotel is the Cors Fochno nature reserve which is overlooked by the Cambrian Mountains.
The Glanmor Hotel has a variety of rooms all with modern facilities, a bar, lounge and ample storage and drying facilities. With bus stops, a train station and plenty of parking getting to the Glanmor Hotel and this beautiful part of Wales is easy.
Borth itself has plenty to do and see, with the long sandy beach and various attractions. Glanmor Hotel is the perfect holiday base for families, golfers, birdwatchers, walkers and those wanting to explore Cardigan Bay and the surrounding area.